Ride United
Through Brown Cab, the Ride United program offers FREE transportation to and from local food pantries and free medical & dental clinics in Fort Atkinson, Jefferson, Whitewater & Watertown, as well as to the Winther Counseling Services at UW-Whitewater.
Ride United provided 629 free rides in 2021!

Download the 2021 Ride United Flyer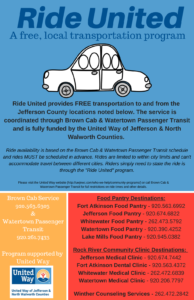 *Ride Restrictions: callers must call at least one day in advance to schedule their ride; all trips leaving town must be scheduled for the top of the hour and all riders must expect to share the ride with others. All trips leaving clinics must be scheduled for the bottom of the hour and all riders must expect to share the ride with others. On school days Brown Cab won't schedule Ride United program rides that compete with the demands of the school-children, so rides will be scheduled from 9am-2:30pm and 4pm-5:30pm.

United Grove Community Garden
United Grove Community Garden is located in Fort Atkinson, on the 600 block of Maple & Grove Streets, across from Jones Park. The community garden offers approximately 20 plots to local gardeners each growing season. United Grove provides gardeners with space, water and opportunities to learn from fellow gardeners. Many of our generous United Grove gardeners often donate excess produce to the Fort Atkinson Food Pantry. Local volunteers, Deborah Gressle & Craig Ficenec, donate their time to serve as the coordinators of United Grove.
Quick Facts:
Plots available: 10×10 ($10) or 10×20 ($20)
New gardeners must meet with the garden coordinators prior to beginning their growing
All gardeners are required to sign a "gardener contract"
Please visit the United Grove Community Garden Facebook page to stay up to date on garden happenings! We are still taking registrations for plots for the 2021 gardening season – with very limited plots still available! Please see the registration form and gardener contracts below. Plots are assigned on a first-come first serve basis (forms and a check/cash can be mailed to our United Way office).
Registration Form 2021
Garden Agreement 2021
COVID-19 Guidelines
United Grove Brochure
United Grove Brochure (Spanish)
Volunteer Platform
United Way's volunteer platform – found at www.volunteermain.com – is a free, online volunteer resource available to any organization or individual throughout Jefferson County & Whitewater. In partnership with Jefferson County, the platform was launched in October 2015.  Contact our office if you have questions about how to register, how to post volunteer needs, how to find volunteer needs or want more information on the amazing features the platform provides.
Our goal is to be the most engaged community in Wisconsin!
Quick Facts:
32 active organizations posting volunteer needs
45 current volunteer opportunities
8,190 agency views in the past 12 months
8,638 user views in the past 12 months