Ride United Programs Expands to Offer Free Rides to Vaccination Appointments
We are so proud to be temporarily expanding our Ride United program to now also offer free transportation to vaccination appointments in Fort Atkinson, Jefferson, Lake Mills, Whitewater and Watertown. 


We are joining the United Way of Wisconsin in a 21 Week Equity Challenge – to learn how inequity affects our communities and what we can ALL be doing to address it. We encourage community members to sign-up and start this incredible learning opportunity. Weekly emails will be sent every Monday beginning on February 1st – June 21st. Topics will range from definition & general concepts, internalized racism, interpersonal racism, institutional racism, and more. Each week's email will include information to read, watch or listen to and will follow-up with suggested action steps and questions to help participants internally reflect. 
To register, click here!

_______________________________________________________________________________________________________________

2020 Campaign – "Now More Than Ever"
– – – – – – – – – – – – – – – – – – – – – – – – – – – – – – – – – – – – – – – – – – – – – – –
We are so honored to be providing a record-breaking $302,518 in support of our mission to fight for the health, education and financial stability of every person in our communities…
…and that support is only possible because of the incredible generosity shown us by our donors and supporters! Stay tuned for full details on how you can lend your support and get involved with our 2020 Campaign.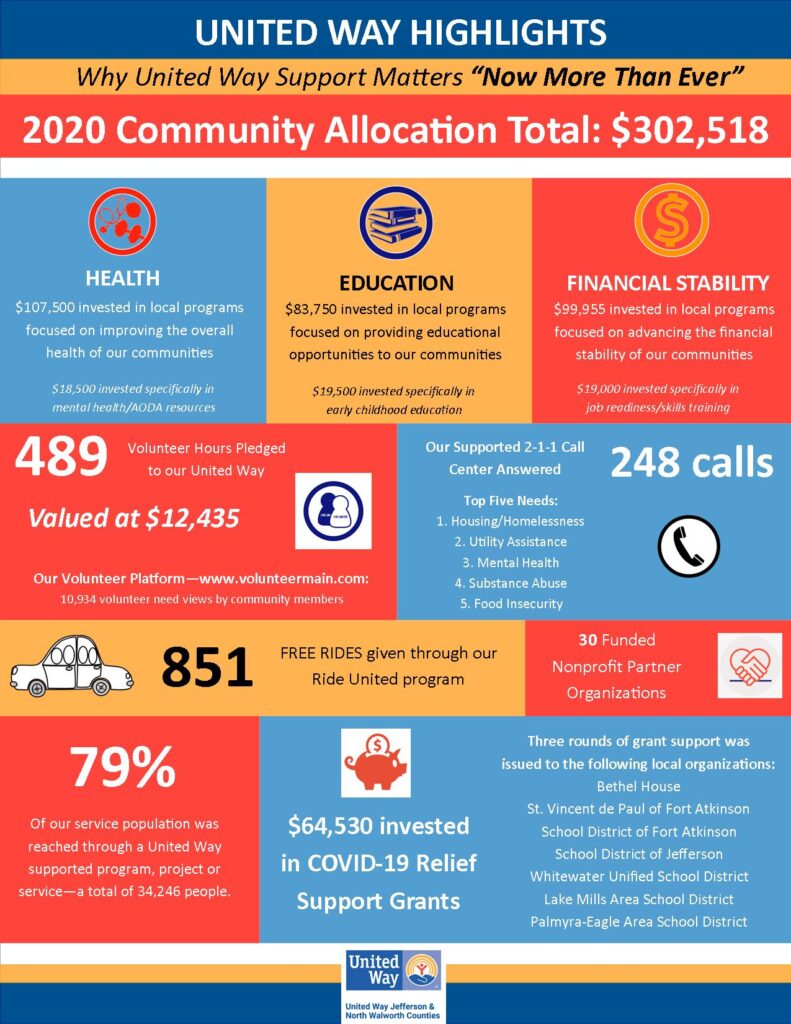 The United Way of Jefferson & North Walworth Counties is launching their second annual Season of Caring, scheduled to run for seven weeks from September 27th – November 14th. "We are kicking off our 2021 campaign season focused on our theme of being "United For...
read more