Welcome to the 2020 Pillar Grant Season!
We are so excited to be kicking off our seventh year of pillar grant funding.
We will continue to accept applications for projects aimed at the following strategic impact areas:
Early Childhood Education, Mental Health/AODA Resources and Job Readiness/Skills Training.
The online application will open at 9am on March 16th and close at 5pm on April 17th. Please contact our office if you would like access to the application. All applicants will be notified of the board's allocation decisions via letters sent on May 13th. 
Please visit our PILLAR GRANTS page to view the list of past pillar grant supported programs & projects and visit our PILLAR GRANTS PROCESS page to review the 2020 guidelines and application. 
————————————————————————————————————————————————-



Each and every dollar donated to us allows us to uphold our mission to fight for the health, education and financial stability of every person in our communities…
…and because of that support in 2018, we are allocating a total of $274,004 to LOCAL programs, projects & services throughout 2019! Check out our 2018-2019 Annual Report and see below for some of our great 2019 highlights!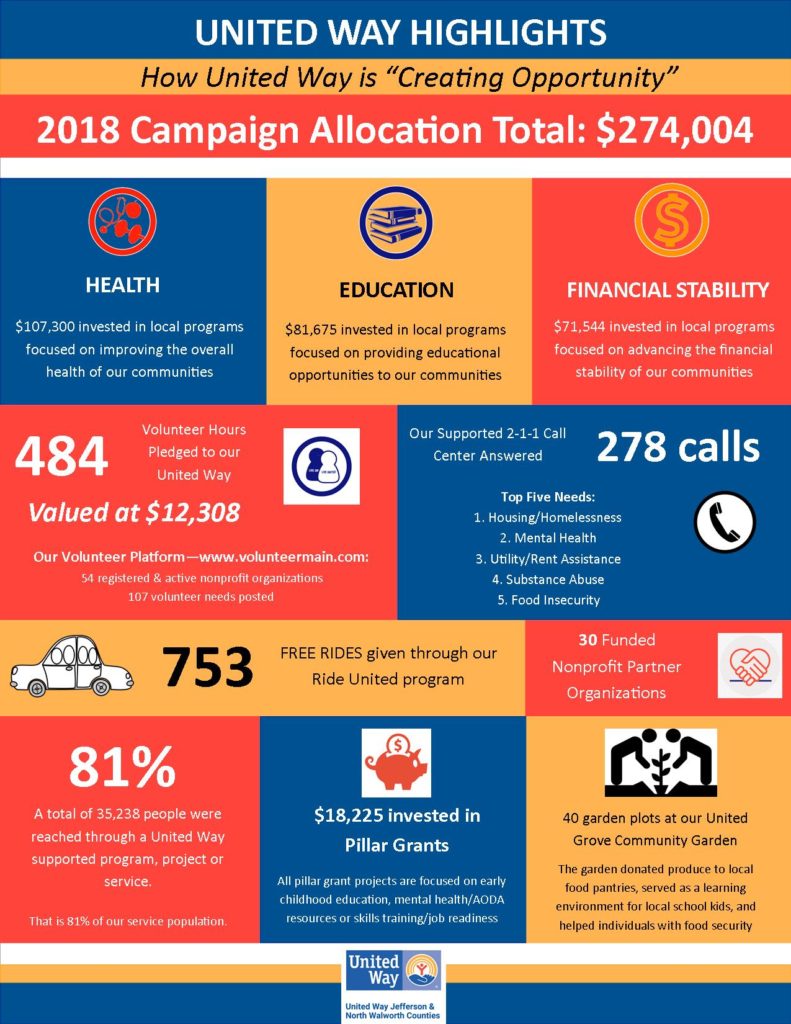 – – – – – – – – – – – – – – – – – – – – – – – – – – – – – – – – – – – – – – – – – – – – – – –
We are always looking for new workplace supporters, new volunteers and new community partners!  Please reach out to our office if you are interested in getting involved in our 2018 United Way campaign and helping us invest in positive impact for everyone in our communities!
Our latest annual report can be viewed here and please visit our Join the Campaign page to view details of how you can get involved in our upcoming campaign.
The United Way of Jefferson & North Walworth Counties is set to open its seventh cycle of pillar grant funding to our communities.  The application cycle officially opens at 9am on Monday, March 16th and closes at 5pm on Friday, April 17th, with grant allocation...
read more