Welcome to the 2019 United Way Campaign – "Creating Opportunity" 
We are so excited to follow-up our incredible, record-breaking 75th Anniversary Campaign in 2018 and hope we can count on all of our existing donors & supporters and add some new ones!
If you are interested in supporting our campaign – as a volunteer, through a workplace campaign, by running a fundraiser, etc. – please contact us today or visit our Campaign Materials page to view all of this year's educational & marketing pieces.




Each and every dollar donated to us allows us to uphold our mission to fight for the health, education and financial stability of every person in our communities…
…and because of that support in 2018, we are allocating a total of $274,004 to LOCAL programs, projects & services throughout 2019! Check out our 2018-2019 Annual Report and see below for some of our great 2019 highlights!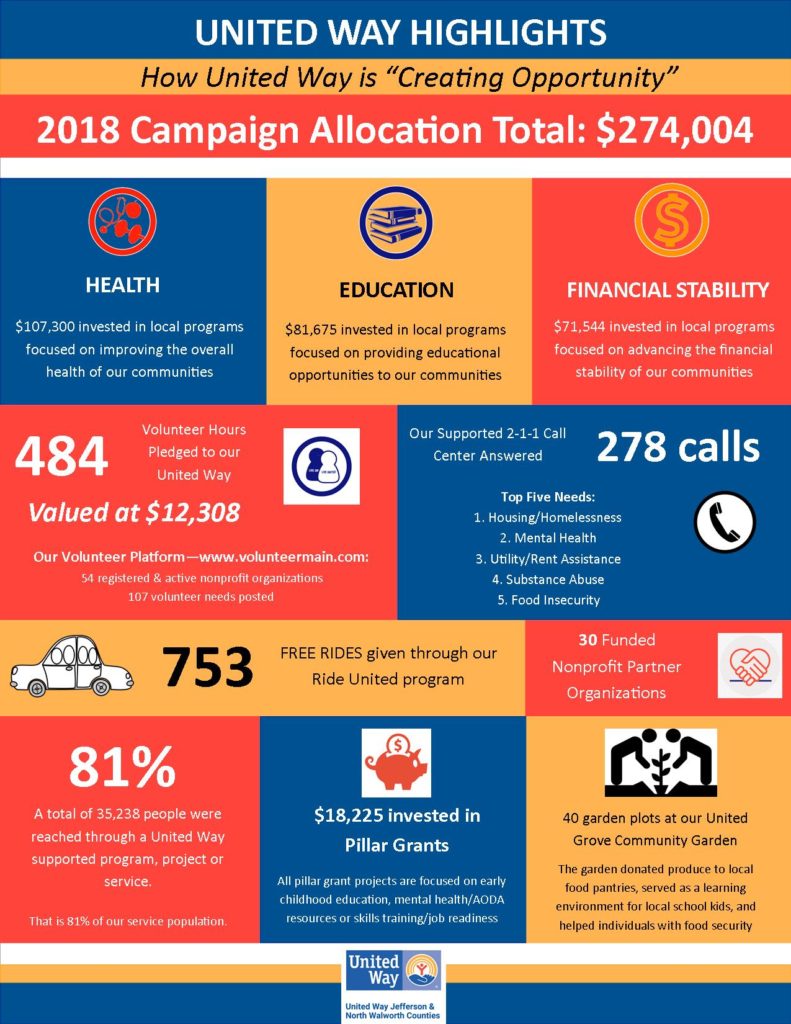 – – – – – – – – – – – – – – – – – – – – – – – – – – – – – – – – – – – – – – – – – – – – – – –
We are always looking for new workplace supporters, new volunteers and new community partners!  Please reach out to our office if you are interested in getting involved in our 2018 United Way campaign and helping us invest in positive impact for everyone in our communities!
Our latest annual report can be viewed here and please visit our Join the Campaign page to view details of how you can get involved in our upcoming campaign.
Two weeks ago, I had the privilege of running our 20th annual United Way Chili Cook-Off. It was a tremendous success, and I enjoyed working with all of the participants, volunteers, and community members. Roughly 300 community members kicked off the holiday season...
read more