Ride United
The Ride United program offers free transportation to and from local food pantries for low-income, elderly and disabled individuals.  The program was originally established in Fort Atkinson, and as a result of generous campaign support, has grown to also provide service Jefferson and Whitewater.  Our hope is to eventually offer this service throughout every mile of our service area.
Ride United is projected to provide over 500 free rides in 2017!

Ride United sign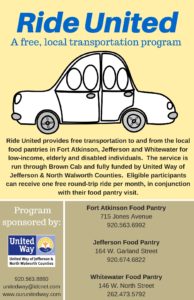 United Grove Community Garden
United Grove Community Garden is located in Fort Atkinson, on the 600 block of Maple & Grove Streets, across from Jones Park. The community garden offers 40 plots to local gardeners each growing season. United Grove provides gardeners with space, water and an opportunities to learn form fellow gardeners. Many of our generous United Grover gardeners often donate excess produce to the Fort Atkinson Food Pantry. Local volunteers, Deborah Gressle & Craig Ficenec, donate their time to serve as the coordinators of United Grove.
Quick Facts:
Plots available: 10×10 ($10) or 10×20 ($20)
New gardeners must meet with the garden coordinators prior to beginning their growing
All gardeners are required to sign a "gardener contract"
Please visit the United Grove Community Garden Facebook page to stay up to date on garden happenings! Mark your calendar for this year's United Grove Information Meeting being held at 1pm on Saturday, April 1st in the Community Room at the Dwight Foster Public Library.
United Grove Brochure
United Grove Brochure (Spanish)
Volunteer Platform
United Way's volunteer platform – found at www.volunteermain.com – is a free, online volunteer resource available to any organization or individual throughout Jefferson County & Whitewater. In partnership with Jefferson County, the platform was launched in October 2015.  Contact our office if you have questions about how to register, how to post volunteer needs, how to find volunteer needs or want more information on the amazing features the platform provides.
Our goal is to be the most engaged community in Wisconsin!
Quick Facts:
32 active organizations posting volunteer needs
45 current volunteer opportunities
8,190 agency views in the past 12 months
8,638 user views in the past 12 months